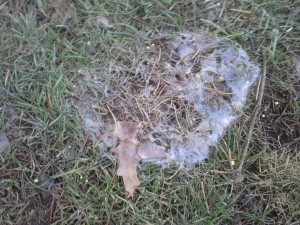 When lawns and cities experience long periods of snow cover homeowners may begin to see symptoms of snow mold.  Lawns covered in snow for an extended period of time are more likely to have winter injury from a low temperature parasitic fungi because the snow cover creates a perfect micro-environment for the spores to colonize.
Varieties of Snow Mold
There are several varieties of snow mold. Some require snow cover, while others develop during cool, wet periods in the absence of snow. Pink snow mold is most active during long cool, wet weather from fall to mid-spring. Gray snow mold symptoms don't begin to appear until about a month after the snow cover has melted. Immediately following the snow melt,  you may see white or yellow patches in the lawn. These can vary in size from a few inches or they may overlap and cover large areas of the lawn. If you see a patch of turf that is matted and has a cottony growth of mycelium a light raking will help the turf to dry out.
Snow mold in Lee's Summit
Most snow molds are typically not severe on lawns in the Lee's Summit area. Fungicides are not recommended unless there is a history of the disease or the lawn is highly valued such as a golf green or sports field. Preventive fungicide applications should be done in the late fall as close to permanent snow as possible. This will help to prevent premature losses of the fungicide due to rain or sun. To help control snow molds avoid too much nitrogen in the fall and continue to mow up to winter dormancy, when the grass has finally stopped growing. The mowing will help prevent tall grass from laying over and becoming matted which can become a breeding ground of the fungal spores.
Call a reputable lawn care services company to help get your lawn back in shape. Don't wait too long when the weather warms. The first application for a lawn care program starts in the early spring.
This article was originally published in March 2013 and was updated February 2018.